When my friend Camille told me she was pregnant, I was (and still am, of course...) thrilled! For her baby shower, she had decided on a woodland theme. I set to work looking for some great ideas for the perfect baby shower activities. When I came across these
little felt animal patterns
by Aimee Ray of
Little Dear
, I knew I had found it.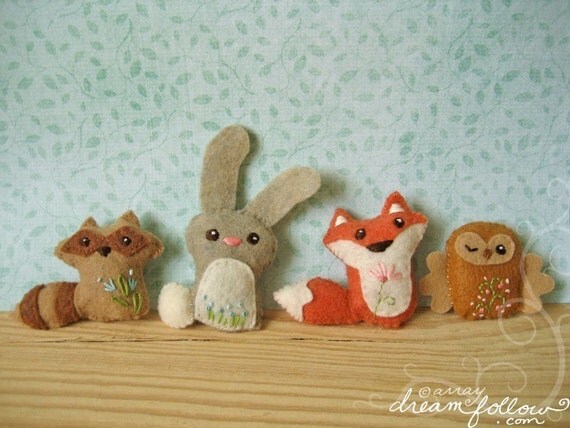 Thanks to an instagram friend, who just happened to be giving away some felt in just the right colour (which I quickly snatched up mind you!), I knew it was meant to be. I bought all three sets of patterns and prepared the shapes for the guests. While cutting them up, I had to stop myself from making them! They are so cute!
Fortunately, they made it to the baby shower and each guest made up an animal, which I then turned into a mobile for the nursery. Let me tell you, there are some stealthy stitchers out there! Plenty of hidden talent. I think it turned out brilliantly and will make a lovely keepsake because it has so much love in it. I have since become addicted to mobiles and I want to make more! Just look at that owl winking!
I can't wait to meet the wee baby when s/he arrives!
Crystal x